Outdoor Perimeter Protection
​Outdoor Perimeter Protection products are there to protect external perimeter of your facility.

High security crash rated bollard which is used in high security areas to keep vehicles out of the secured area.

The unique design affords true bi directional impact protection and is therefore ideal for all critical infrastructure application.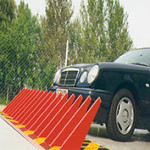 A massive and sturdy construction of high tensile steel ensures highest security in entrances.

Tyre killer is designed to destroy vehicles trying to forcibly enter into the secured area.

Boom barriers serves the purpose of allowing individual passage of vehicles and regulating the  entry  and  exit  of  vehicles.

Quick Folding Gate is a fast trackless bi-hinged gate and is the only way to keep your entrances secured after every exit or entry.